Need to send us files? No Problem … Use the form below to provide your email address along with a brief description of your project. Then use a browse button to locate the files on your computer. Press the Send Files to FitzMC button to complete your send. To make the file upload go faster, zip or stuff your files into a single compressed file before sending. If you have any trouble, please contact us at 773 565 1519.
FitzMC accepts a wide variety of file types and support both PC and Mac platforms. Adobe CS Suite and Quark files are preferred, but can accommodate other file types depending on the reproduction requirements.
When sending your files be sure to collect or package all of the elements that comprise your project:
Page Layout Files – Quark/InDesign

Fonts – Adobe, True Type & Open

Images – jpg, tiff, psd

Art – eps & ai
Please be sure that your files are setup in the correct color mode for the intended use. Most of the time your files will need to be in CMYK and/or Spot Color for high resolution digital or offset reproduction. If you are not sure which color mode, reach out to us and we will guide you.
To make sure your images are crisp and clear it is best if your image resolution is at or above 300 dpi at the intended output size. Resolution lower than 300 dpi can appear grainy or pixelated on the final output.
As always, FitzMC is here to help, contact us at 773 565 1519!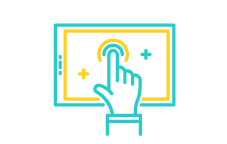 Share Files
If you are using a cloud storage software like Google Drive, Amazon, Box or Dropbox, simply share the download link with FitzMC via email at orders@fitzmc.com. Please be sure to change any permissions necessary for us to be able to download your file.

start a project
Click below to find out
more about working with us.